The Lubbock Professional Chapter of the Association for Women in Communications is binding thread through the lives of more than 60 local communicators. The mission of the chapter is to provide professional development and networking for members and enhance the lives of local communications students through scholarships.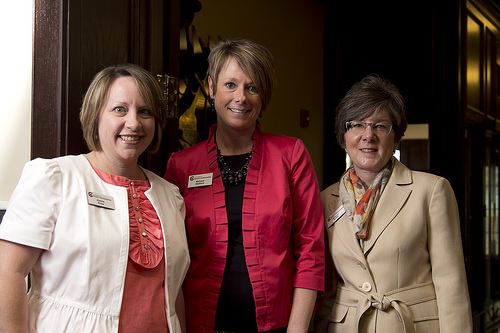 Who We Are
AWC Lubbock began in 1955 as Theta Sigma Phi Alumnae Club, founded by the late Louise Allen, who was a widely known journalism instructor at Texas Tech University.
What We Do
The chapter meets twice a month. The first meeting is to discuss business and hear officer reporters from the board of directors. The second meeting features a renowned speaker who contributes to the personal and professional development of members. For more information on upcoming meetings, visit our calendar.
Other chapter events include biannual membership mixers, an annual planning retreat and a biennial national conference.
In 1985, AWC Lubbock established an annual Celebrity Luncheon, the first event of its type in the community. The Celebrity Luncheon celebrates the positive contributions and achievements of individuals and organizations who make Lubbock and West Texas a great place to live.
Recently, AWC Lubbock partnered with the Lubbock chapter of the Association of Fundraising Professionals to host a half-day social media workshop open to the community.
Who We Support
A portion of the funds raised from the annual Celebrity Luncheon support a scholarship fund for local communications students. Visit our scholarships page to learn more.
Additional funds from the Celebrity Luncheon support professional development opportunities for AWC Lubbock members. These opportunities include all-expense paid trips to the biennial national conference for a predetermined number of members and local workshops. Some of the professional development funds help bring out-of-town speakers to Lubbock for the monthly program meetings.