By: Caitlin Hogge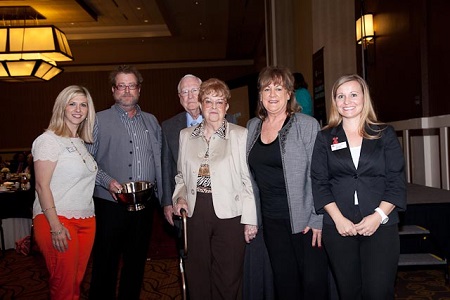 From Left: Jeanna Roach, Dr. Brian Carr, Dr. Robert L. Carr, Betty Carr, Alona Beesinger and Michelle Stephens. Photo by Amy Kim.
Dr. Robert Carr has served his country and state, but perhaps most importantly, his community. From 1943 to 1946, he was on active duty in the U.S. Navy Amphibious Forces. He now is the medical director of the ADHD Clinic at Lubbock Children's Health Clinic. He has received many professional recognitions, including the 1993 Hippocratic Award from the Lubbock-Crosby-Garza County Medical Society and the Physician Recognition Award from the American Medical Association in 1977, 1992 and 1995.
Betty is quite accomplished in her own right. Not only did she provide a stable household for Brian and his brother and sister, but she has also been greatly involved in the Lubbock community for many years. In 1963, Bayless Elementary School named the Carrs "Family of the Year." Both Betty and Dr. Carr share a love for history and serve as volunteers at the Texas Tech University National Ranching Heritage Center. After putting her education on hold, Betty returned to Texas Tech's campus 30 years after beginning her degree and graduated with a degree in history – she graduated the same year as Brian. She has been active in the family's church, First United Methodist, since 1991 and was president of the Chamber of Commerce Women's Division in 1983-1984.
In terms of the Carr family, the apple doesn't fall far from the tree. Robert and Betty's son, Brian is also heavily involved in making Lubbock a better place. He recently spearheaded a grassroots campaign to keep the Lubbock Health Department open in order to provide essential health services to the Lubbock community. He, like his father, is also involved in the medical field. Brian is a successful psychologist in Lubbock. Upon receiving their award, Brian said that he has learned a lot from his parents – most importantly to stay calm, which has helped him tremendously in his career. He has enjoyed being of service to his community and his parents will always serve as an inspiration to him.
Being awarded the Mahon award was a surprise to Robert and Betty, who thought their son, Brian was the sole recipient. "I'm totally surprised, really," Betty said. "I thought this was Brian's lunch, and I was totally prepared for that. I was not prepared for what you have given our family. And we are deeply honored, truly."
Nonetheless, the entire family deserves to be recognized for their work. They truly embody what the George Mahon Award represents.