By: Kristin Thomas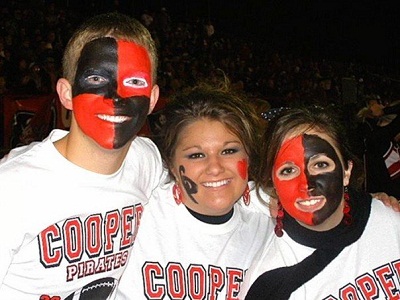 When the Lubbock-Cooper Senior Class of 2006 voted Sadie Shaw as "Most Spirited," they had no idea just how full of LCISD spirit she was! For the past seven years, Sadie has continued to carry the "Most Spirited" banner as communications specialist for Lubbock-Cooper ISD – the person responsible for all communications for her alma mater.
"Lubbock-Cooper has long been my 'home away from home,' first as a student, now as an employee.  I personally believe in the mission of the school district which is to offer every possibility of success to students.  It is easy and rewarding to advocate for a community so close to my heart," Sadie said.
As the communications specialist, Sadie is in charge of all communications regarding LCISD, its staff, employees, students and parents. She is the bearer of good news, bad news and all news in between. In addition to her educational responsibilities, she is the loan executive for the Lubbock Area United Way and the annual campaign coordinator for the district; she coordinates the LCISD campaigns for the March of Dimes; and she is the keeper of all historical things for Lubbock-Cooper. If you need old pictures, you contact Sadie.
Although she loves her job, if she could do anything in the world she thinks it would be exciting to manage regional communications for the United States Department of Agriculture.
"My grandpa worked for the USDA for decades and was always so proud of the organization and I would love to carry on that legacy," Sadie said. "A lot of people in other parts of the nation (maybe even some people around here) don't realize how vital agriculture is to life as we know it, and I think it would be a very rewarding challenge to spread agriculture advocacy to new audiences."
Although she has spent the majority of her life in Lubbock, Sadie was born in Lufkin, Texas, and has lived as far away as Colorado, before her family settled in Lubbock. After her high school graduation from Lubbock-Cooper, she attended Texas Tech where she attained her degree in advertising.  She is currently working toward her master's degree in agricultural communications.