By: Kendall Wheeler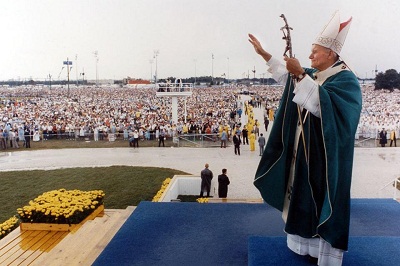 [Image from National Exhibits Association Presents "I Have Come to You Again" Facebook Page]
Lubbock to mark first of only three U.S. stops for Pope John Paul II Exhibition titled "I have Come To You Again"
March 15 – May 15 at Catholic Renewal Center, 4th Street and Toledo Avenue
Exhibit visitors will encounter the man the world knew as pope and the saint that history has proclaimed. They will view Blessed John Paul II's personal possessions as they see and hear the events of his miraculous life unfold on museum guide screens. The experience will take visitors through four phases of his life:
1. The childhood and adolescence of Karol Wojtyla (1920-1938);
2. His years as a loborer, priest, bishop, archbishop and cardinal in his native Poland (1939-1978);
3. His years as the first Polish Pope of the Roman Catholic Church; and
4. The time from his death through his beatification (2005-Present)
Exhibit items come from the Vatican City State; Krakow, Poland; and 28 other museums and private collections. Artifacts will include pieces such as his crosier; the skis and Mass kit he used on mountain back packing trips; gifts and art objects presented to him by heads of state; artwork he collected; pictures and momentos from his childhood and pontificate; historic documents from his service as head of the Vatican state and as one of the most influential world leaders of his time.
Professor Francesco Buranelli, the secretary of the Pontifical Commission of the Cultural Patrimony of the Catholic Church from the Vatican City state, is serving as the curator and historian. Rev. Malcolm Neyland, M.C.L., J.C.L., executive director of the National Exhibits Association is coordinating the venue.
Tickets start at $10 each and are available by calling 1-800-585-3737 or visiting http://www.startickets.com and entering John Paul in the search window.