By: Melissa Wofford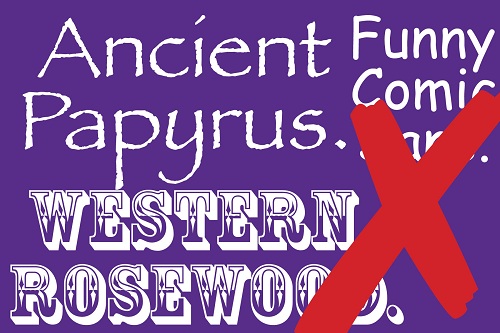 Ancient Papyrus. Funny Comic Sans. Western Rosewood. These three offending typefaces and their very obvious emotional impact are overused and easily identified. This leads me to love to despise them. The typefaces used in professional communications are as important as the message. Follow these few guidelines to choose an appropriate typeface to support your message:
Legibility is paramount. If your audience can't consume your message, your communication is ineffective. Communication must always come before style. Will the font be used on a billboard or on a business card or both? Will it be used in print and online? To assess legibility and readability, test the selected typeface at the actual sizes and in the channels you will be using.
Your typeface is not your message. We have hundreds of fonts available to us, but just because we have them doesn't mean we should use them. If your message communicates a rustic theme, this does not dictate you need to use a rustic typeface. Your typeface should not draw attention to itself, but should present your message with complete clarity.
Consider your typeface choices as part of your brand identity. Be consistent and use no more than two or three contrasting fonts in assigned levels of message hierarchy: one for body copy, one for headings, one for accents. These typefaces should be used in all your marketing and promotional communication messages.
These guidelines may also be broken when done with intention and innovation. Every typeface has an effective use, though I still haven't found one for Papyrus. What typeface do I love to love? That's easy. Reliable Garamond.