By: Kelley Pitts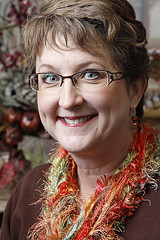 Christmas cards are beautiful…especially the handmade ones! Since they can also be somewhat expensive, throwing them away after a holiday seems wasteful. Here are some fun, creative ways to recycle them.
Gift Tags
Carefully cut out your favorite part of a Christmas card and use it as a tag if it's blank on the back. Or paste it onto a coordinating color cardstock square or rectangle and use a corner rounder or tag corner punch. If there's writing on the back, securely tape the gift tag to a package. If the back is blank, fill in your to/from and use a ribbon to loosely dangle tag.
Dinner Place Cards
Folded index cards or card stock rectangles work well as table name cards. Decorate each with an attractive design cut out from a recycled greeting card. Neatly hand-write (or calligraphy) each person's name on the place-cards or print names digitally on a sheet, cut apart and add decorations.
Placemats and Table Runners
Use two or more large sheets of colored construction paper or card stock. Round off the corners and use clear glue dots on each to hold the sheets together. Decorate the front (or front and back for double duty) with cut-out Christmas card designs and/or holiday phrases. Laminate the placemat or use clear contact paper, making certain the waterproof lamination extends at least 1/4-inch past the edge of each end.
Bookmarks
Fold a large index card in half lengthwise then round off the corners with a punch. Or die cut some cardstock into a bookmark shape. Glue a greeting card cutout to the top end, extending a little bit over the edge. You can add your favorite saying, poem or Bible verse to the rest of the bookmark. Laminate for longer usage.
Collage
Arrange greeting card cutouts into a variety of configurations for a colorful and creative collage to display in a frame.
Framed Photo Art
Before framing a photograph under glass, add a decorative greeting card cutout in one or more of the corners to add a cheery touch.
Scrapbooking
Christmas card cutouts add creative, inexpensive designs to your scrapbook pages.
Another Christmas Card
Fold a piece of blank card stock in half to create a handmade greeting card. Use a combination of greeting card cutouts and stamps or your own artwork to create an artistic greeting card. Add your own handwritten or computer printed message.
Christmas Postcard
Cut folded holiday cards in half, discard the "used" half and recycle the fronts as postcards.
Puppets
Kids can cut out cute greeting card characters and glue them to the end of Popsicle sticks for cute mini-puppets. A shoebox can be decorated with greeting card scraps for a great puppet show stage.
Diorama
Kids are frequently making shoebox dioramas for school projects or just for fun. Greeting card cutouts are perfect for both scenery background and characters in the diorama.
It's easy…the list of ways to recycle Christmas cards and other greeting cards is endless. Just grab a pair of scissors, glue, old greeting cards, your creativity and get crafty!