By: Kaley Daniel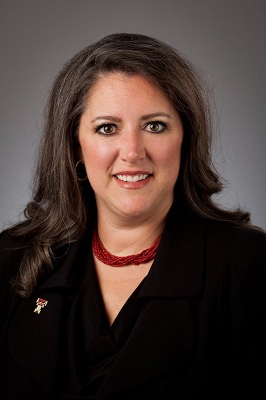 As a child, Courtney's picture of what she would be when she grew up changed daily. From ice skater to gymnast, veterinarian to environmental scientist nothing cured her fickle interests until she discovered her love of the written word and event planning. Though Courtney says she still doesn't know what she wants to be when she grows up – she's even thought about going back to school to be a veterinary technician – she loves alumni relations and the fun and varied experiences her position provides.
On any given day, the activity from Texas Tech Alumni Association Director of Membership Courtney Marshall's desk could range from fielding a call from an 80-year-old member who is trying to access the website and can't find their member number to providing a shoulder to cry on for a student who has failed a test. Whether she's managing the 23,000 alumni association customer relationships or coordinating the combined efforts of 40 student ambassadors at various alumni events, Courtney transitions from one hat to the next with the greatest of ease.
In fact, she's most proud of her ability to be able to transition from university to university – a feat most other alumni professionals wouldn't consider.
"Leaving your alma mater to begin fresh in a totally new environment without friends or family nearby and to work in another university's alumni association is a challenging endeavor," Courtney said. "I've used my skills and industry knowledge to go to different places and accomplish great success in establishing new initiatives."
And she has the track record to prove it. With a public relations degree from Kansas State, she began her alumni relations career there. Four short years into this position and Courtney achieved what is her most proud professional accomplishment. A headhunter recruited her for the executive director position of the University of South Dakota's Alumni Association. At the time, the association had only two directors in its history and Courtney was the first of her network of alumni professionals to be sought out and elevated to such a high-level position.
In this position, her making-things-happen talent caught the eye of Al Neuharth – founder of USA Today and University of South Dakota alum – who wrote her a letter congratulating her on the accomplishment of publishing the alumni association's first-ever magazine.
"Converting the association's dated newsprint publication into a full color, 64-page, glossy magazine wasn't easy but was very fulfilling!" Courtney said. "I only had two people to pull this off and we did a lot of the copywriting and photography work in house."
And speaking of pulling things off in house! What do you do when a Texas Tech fan approaches you at the Frazier Alumni Pavilion on game day asking for First Aid? When you're Courtney Marshall, you make things happen with your strength of being able to read people and figure out what they really want to accomplish when sometimes they don't even know. This is what she was able to do when the fan said he needed First Aid and asked for a safety pin. Though this didn't make sense to her, Courtney immediately reached for the kit while going in to emergency response mode asking questions. Then the fan turned around and showed her his backside which exposed his boxers – his back pocket ripped and gaping. Going above and beyond to make fans happy, Courtney instead reached for the alumni association super adhesive stickers and patched his pocket sending him happily off to cheer on the Red Raiders.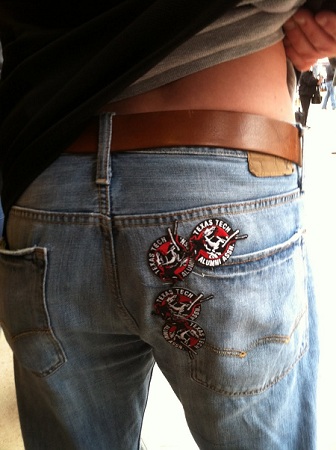 Growing up in Amarillo, she always wanted to be a Texas Techsan but life took her away from Texas and Red Raiderland. Still the irresistible unknown of what she missed at Texas Tech drew her back 20 years later than when she dreamed she'd be here. Now, hoping to complete her master's at Texas Tech while working at the TTU Alumni Association, she'll officially become a Texas Tech graduate though she already has the affinity and passion of a Red Raider.
When Courtney hangs up her alumni association hat, she enjoys the company of her furry family – her two dogs who take her on regular walks and runs. Courtney's other hobbies include reading and gardening and as a member of AWC, she hopes to network and get involved in community events so that she can shake it up with new friends in her new West Texas home.
Courtney explains what she's thankful for in this short video: