By: Caitlin Hogge
Lauren Hays, public relations coordinator at Betenbough Homes, recently traded in the beaches of Florida for the flatlands of West Texas. Lauren was born and raised in Jacksonville, Fla., and after marrying her husband, Brandon, in 2011, the pair left behind the sunny skies of Florida to begin a new adventure in the South Plains.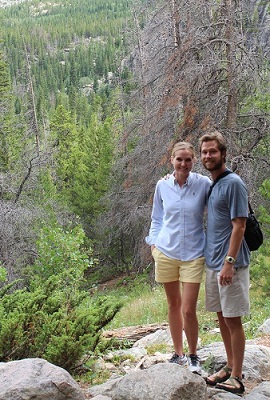 Lauren and her husband, Brandon, in Colorado at Rocky Mountain National Park.
Lauren graduated from the University of North Florida with a degree in Communication and Public Relations; however, she didn't begin her college career with the dream of someday working in the communications field. Her original major was sociology but after taking an Introduction to Public Relations class, Lauren was hooked. The class inspired her to change her major and pursue a career in Public Relations. After graduating, Lauren worked as a media support specialist at the City of Jacksonville Office of Special Events until her move to Lubbock in 2011. She is now the public relations coordinator at Betenbough Homes and says her greatest strength as a communications professional is her attention to detail and her ability to be thorough with every message she communicates. Lauren is currently pursuing a Master of Arts in Media and Communication.
Outside the office, Lauren loves running, World War II history and the movie "A Beautiful Mind." She is currently training for her second marathon and her favorite book of the moment is a biography of Dietrich Bonhoeffer. Her favorite two celebrities are quite the pair; she loves Uncle Si from Duck Dynasty and Lebron James. Lauren had the opportunity to spend three months in Spain after graduating from college. She was able to visit Morocco and Portugal during her trip, and she loved every minute of it.  As a child, Lauren dreamt of playing basketball in the Olympics. She had a piggy bank where she kept the money she saved for her Olympic fund, and she even kept a record of when she practiced that she planned on sharing with Dan Rather when he interviewed her at the games.
Lauren's favorite quote, "Wherever you are, be all there," by Jim Elliot, seems fitting to describe her move from Florida to West Texas and her journey here in Lubbock. As a newer member of AWC, she looks forward to the relationships she will build here and the opportunities that will come her way.